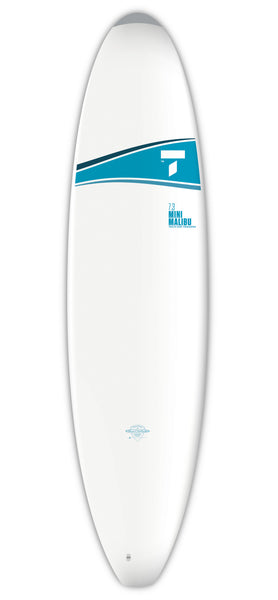 Tahe Outdoors
7'3 Duratec Mini Malibu incl FCS fins, new 2023 model
Regular price
€369.00
Sale price
€310.00
---
7'3 Mini Malibu - No wonder this is the world's single best selling surfboard
LINE CARVERS
No wonder this is the world's single best selling surfboard!
The Mini-Malibu is the perfect all rounder. A fabulous entry-level board for new surfers, it features a refined combination of stability for ease of paddling and enough performance to make it a fun board for the more advanced surfer.
Versatile and a joy to ride, the Mini-Malibu surfboard will take you from your first ever surfing experience through to gliding down the unbroken wave face or ripping up the lip! Durable enough to survive learn-to-surf wipeouts that leave other boards on the beach, this low-cost board will bring you hours of fun on a great range of wave conditions.
The world's single best-selling surfboard! A proven all-rounder : Stability for paddling and catching waves for beginners, great drive off the bottom turn that allows more advanced surfers to set-up easily for the rest of the wave, even in the critical section. A joy to ride and a performance potential that will give you long lasting memories of surfing great waves!
KEY FEATURES
 Easy to surf: comfortable shapes, ideal for quick learning and progressing
Fun to ride: authentic surfboard qualities for immediate stoke
 Built to last: unbeatable durability. Don't worry about your board, just have fun!
 FCS fins
 Made in France
ALLROUND SERIES :
Our DURA-TEC board range gives beginner and intermediate surfers the advantage of a tough, easy board at a budget price.
When you learn to surf, there are three key elementsthat help you enjoy the experience of those first waves :
 A shape well-adapted to beginners and easy progression
A strong, hard-wearing board that won't be easily damaged
 A quality board at a reasonable price